Self propelled wheelchairs are extremely important to a vast number of people, particularly to those who are suffering from one physical infirmity to another.
Those who are physically challenged, or have ambulatory issues, as well as individuals who have difficulty standing for a long time, will find this type of disability equipment extremely helpful to them.
Manual wheelchairs can be classified into two categories, both of which can be used for this purpose, the self-propelled and the transit.
The distinct thing about transit wheelchairs is that they usually have a fairly small set of wheels on their rear side. Another thing is that transit wheelchair users won't be able to propel themselves whilst seated. On the other hand, self propelled wheelchairs are equipped with larger wheels with push rims or rings. The occupant or wheelchair user himself can reach this ring by hand, allowing them to propel this piece of equipment on their own either short or long distance.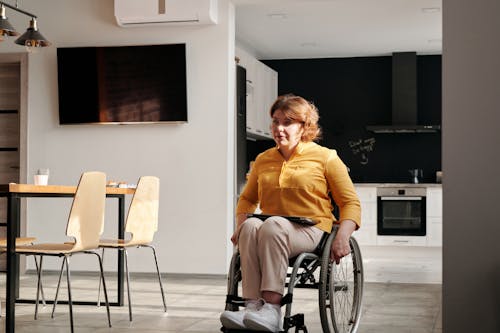 Identify The Main Purpose You'll Have for the Wheelchair
If you want to identify the right kind of manual wheelchair to use for your kind of situation is to determine first the main function that you will have the wheelchair for. Some users don't have a serious need for it but would have use for it on some occasions like when visiting their doctor, during outings or out of town trips, or as a convenient means of transportation for them were walking the required distance would be impractical.
However, for many people out there, particularly to those who happen to have a permanent disability, the use of a self-moving wheelchair is a must for them for their lifetime mobility. People who need such kind of mobility equipment only on occasion may see it not as necessary and invaluable as those who have a constant need for it.
Overall Weight
It is typical for transit wheelchairs to come in a much lighter weight which can be attributed to the size of their rear wheel. Contrasting to this, a self-propelled wheelchair will be much easier on the part of the carer to handle when he pushes it, say, over grass or certain obstructed surfaces like gravel due to its large-sized wheels.
Self-propelled wheelchairs are much more preferable when it comes to negotiating difficult or uneven surfaces even when you intend to use it only for short-distance travel. The transit wheelchair will pose a certain level of challenge or would somehow make it almost impossible for the actual user to move around in most circumstances on this kind of mobility equipment.
Portability
Portability is another key point to remember when it comes to self-propelled wheelchairs. Ideally, they should come in compact sizes, foldable, and lightweight. But they may not be seen as something crucial to wheelchairs that can be carried by or can be transported using a wheelchair accessible vehicle with the user still seated on it.
Needless to say, in the case of transit wheelchair users, its weight when being propelled by someone else or the carer, can be considered also as a prime consideration since it will also impact how easy or challenging it will be for someone to push or move it around with the user still seated on it.
Related Benefits and Accessories
Some users would consider adding accessory features to the wheelchair they are using for added functionality and value and this may include a carry bag, a multi-purpose tray or an oxygen bottle holder. Everything will be depending upon their condition.
For those users of self propelled wheelchairs with special needs, a tilt in wheelchair space would be a suitable option for them because it will let them experience maximum comfort and will help address their pressure care needs. This type of wheelchair equipment not only offers positioning and pressure relief, but they also offer substantial respiratory function.